What to Expect During Your Contact Lens Fitting
Have you been thinking about getting contact lenses? Our Dr. Harry, from us at Lens n Specs, is the optometrist you need for your next contact lens fitting. Contact lenses are a great way to stay stylish and improve your vision. Our eye doctor in Schaumburg, IL, can help you with everything from fittings to questions about a changing prescription.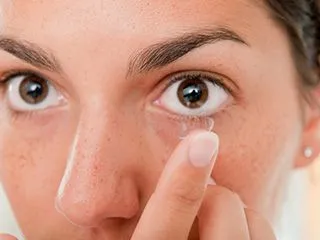 Discussing Options with Our Optometrist
Our optometrist will help you find the contact lenses that are right for you. The first part of your contact lens fitting is going to be discussing your options with our eye doctor. We'll go over the different types of contact lenses as well as what you need to know about wearing them on a day-to-day basis.
Your Contact Lens Fitting
The contact lens fitting is where our experienced optometrist takes careful measurements of the surface of your eye in order to find the contact lens that'll fit you the best.
The first thing you'll do during a contact lens fitting in Schaumburg, IL, is a standard vision test. This gives our optometrist the information they needed to find your contact lens prescription.
The next thing we do is measure the surface of your eye. We use state-of-the-art technology to gather these measurements quickly and accurately
We also conducted tests to make sure that there is enough moisture produced on the surface of your eye in order to wear contact lenses. This is a quick and standard test to ensure that you'll be able to safely wear contacts.
Dr. Harry and our team of eye care experts will have your contact prescription ready in no time.
A Follow Up with Our Eye Doctor
Scheduling a follow up with our eye doctor is a great way to stay on top of your prescription. Your contact lens prescription may change over the years and our eye doctor can help make sure that you always have the right contacts for your eyes.
These follow-up appointments can also help you with any questions you have about your contacts. This is especially important if you're new to contacts and looking for help adjusting into these alternatives to glasses.
Whether you're looking to schedule your first appointment to your follow-up, getting in touch with us is the first step.
Get Contact Lenses Today
Our optometrist can walk you through everything you need to update your contacts or get your first pair. Our eye doctor in Schaumburg, IL, is available for your next contact lens fitting and to answer any questions about contact lenses you might have. Get in touch with Dr. Harry at (847) 884-7150 Lens n Specs today.