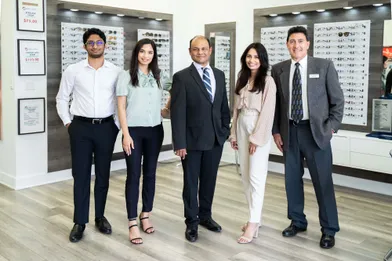 At Lens n Specs in Schaumburg, IL, our optometrist offers a wide variety of eye care services to meet the needs of each patient. Taking care of your eyes is vital in staying healthy, and that's what we're here for. From eye exams to eyewear, our team will work with you to ensure that your eyes and vision are at their best. Our eye doctor, Dr. Alexander, is here to provide all of your eye-care needs.
Meet Our Optometrist
Dr. Alexander is committed to providing personalized care for each patient. We know that everyone's eye health and vision care needs are different. Dr. Alexander diagnoses and treats a range of eye conditions. He is trained in anatomy, biochemistry, and physiology. Our optometrist stays up to date with the latest technology and advances in the field to ensure that we provide the best care.
Our Services
We provide a long list of eye care services for those in Schaumburg, IL. This includes routine eye exams, which are vital in detecting health and vision problems early. Our family eye doctor diagnoses and treats many conditions and refractive errors. We can also guide you on eye surgery and LASIK.
Our services also include optical choices. If you have a refractive error, like hyperopia, myopia, or astigmatism, Dr. Alexander will determine your prescription. You can choose from glasses or contacts. You may also need vision therapy. If you have an eye health condition, you might need hard to fit contacts. These lenses adapt to abnormally shaped eyes and can treat several conditions. We also offer sunglasses, which are vital in protecting your eyes against dangerous UV rays.
Conditions Treated
During an eye exam, Dr. Alexander can detect glaucoma, macular degeneration, diabetic retinopathy, cataracts, and more. Although some of these conditions cannot be cured, we will guide you on how to best manage them to preserve your vision. Our eye doctor also treats dry eye, computer vision, and conjunctivitis. If you play sports, we offer sports vision to improve your visual acuity and your athletic performance.
For those who need eye surgery, Dr. Alexander provides referrals and post-operative care.
Visit Our Optometrist in Schaumburg, IL for High Quality Eye Care
Whether you need specialty contact lenses or a regular eye exam, we can help. At Lens n Specs in Schaumburg, IL, our family eye doctor provides personalized eye care to help every patient. We offer eye exams, eyewear, and more. We are happy to answer any questions you have. Call us today to schedule an appointment or to learn more.