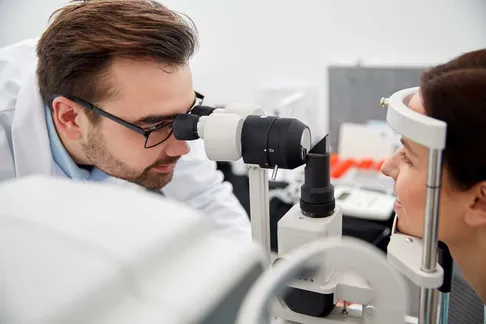 Get Eye Care with an Eye Exam
No matter what age you are, your genetic history, or pre-existing conditions, you may develop an eye disorder. In order to reduce the chances of complications caused by eye disorders, an eye exam should be a routine part of your overall health screenings.
With us at Lens n Specs in Schaumburg, IL, Dr. Harry and the rest of his team are here to help you recover from eye disorders and provide eye care. Through eye exam appointments, treatment from Dr. Harry, and preventative care, we'll help reduce the risk of total or partial vision loss and other complications from eye disease.
Do I Need an Eye Exam?
If you suffer from an eye disorder, it's important to get an eye exam done yearly. Vision disorders are common and can cause a variety of symptoms including:
Blurry vision
Double vision
Trouble focusing
Tunnel vision
Dark spots
Headaches
Eye strain
Physical changes to the eye
Red eyes
Eye pain
If you find yourself suffering from any of these symptoms, it's best to come in for an eye exam regardless of your age or pre-existing vision disorders.
What Happens During an Eye Exam?
Our optometrist will conduct an eye exam to test your vision and determine if there are any underlying vision disorders. He will do this by testing your ability to read from an eye chart at varying sizes of letters. He may also dilate your eyes to get a deeper look inside of the structure of your eye.
Our optometrist may also measure your eye pressure, as high eye pressure can cause glaucoma and is crucial to treat early on. After your eye exam, our optometrist will determine if you have any eye diseases and prescribe the proper treatment. This can include contacts, eyeglasses, possible surgery for conditions such as cataracts, medications, and eye drops.
An eye exam is the first step in ensuring your overall eye health remains optimal.
Protect Your Vision with an Eye Exam
An eye exam is an important part of your eye health. Our optometry services can help you stay ahead of eye disease and provide preventative care. You can have peace of mind about your vision health after coming to our optometry clinic. Visit Dr. Harry today at Lens n Specs and be get help against vision disorders and eye diseases. Call us to schedule an appointment at our clinic in Schaumburg, IL, at (847) 884-7150.